Piolet d´Or 2000
Igor Koller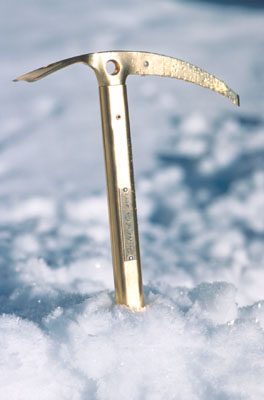 Zlatý čakan.
Piolet d´Or 2000, or as we say Golden Pick is nowadays most known international award of mountaineer achievements. This price is given for the best climb act by association of elite alpinists GHM (Groupe de haute montagne) and French Montagnes Magazine for 10 years. Guy Chaummereuil and Jean-Claude Marmier (present President of FFME) are fathers of this idea from year 1991. Despite the fact that there were lot of reserves in the last years in the field of nominated ascents and main awards, Golden Pick is one of the most prestigious award that many climbers dream about. The last two years was this ceremony together with previous presentation of nominated ascents in Argentiere le Besee as the part of the International ice meeting. This year it was 10. – 14. 1. 2001.
Nominees for Piolet d´Or 2000
Kantega (6799 m), Nepal
Russian alpinist Valerij Babanov climbed here solo new 1200 m long route in N face, classification 5c/6a, A2/A3, M6, he finished his ascent reaching the ridge. Babanov was nominated previous year too for his solo ascent Eldorado on Grandes Jorasses, and that is a great success.
Spantik (7028 m), Pakistan
Russian climbers again, Michail Davy and Alexander Klenov climbed new 2100 m route on Golden Pillar on Spantik, classification 6, A2, 11 days in wall using the capsule style. Another members of this expedition M. Pellissier, M. Guy, A. Azsvath and M. Prezelj made in clean Alpine style first repetition of original British route Golden Pilar on Spantik.
Shivling (6543 m), India
Thomas Huber from Germany and Ivan Wolf from Switzerland solved the well known problem of 500 m top head of N pillar on Shivling that is marked as Matterhorn of Indian Garhwal. The route has 1100 m, classification VII, A4.
Mont Hunter (4442m), Alaska, USA
Two British climbers Jules Catwright and Ian Parnell climbed in May 2000 new 33 pitches long route The Knowledge on one of the most famous and extreme Alaska mountains Mont Hunter. It was 1700 m in total, classification ED+, modern mixed climbing for Scottish 7. They solved several very dangerous places, e.g. in 16th pitch they climbed vertical ice of 1-5 cm thickness, without possibility of protectoin fro 20 long meters. In the end of the route Ian broke his two ribs, they bivouacked in the horrible weather for 45 hours in portal ledge for one person. They climbed up to the top snowy fields, but they had to give up the idea of reaching the real top because of comprehensible reasons.
Grandes Jorasses (4208 m), France
French climber Patrice Glairon-Rappaz climbed solo in 3 days highly awarded Slovak route No siesta in June 2000. Slovak mountaineers Stano Glejdura and Jan Povraznik climbed this route in 1986. It is 1100 m of climbing, classification 7a, A2, with vertical ice and is considered as one of the most delicate climbing in Mont Blanc Region. Patrice had a great season, he done first solo of Desmaison's route on Jorasses in January and he also climbed Dovine Providence on Grand Pilier d´Angle in February. We are going to hear more about the 29-years old devil soon that is for sure.
Ketil (2010m), Greenland
David Jonglez from France and Eduardo Alonso from Spain climbed new route Anisa by the bigwall tactics. Anisa is in the 1200 m granite face of Ketil, four another ascents were climbed in this wall already. Not even the classification 6b+, A3 is an answer why this was one of the nominations. Polish climbers J. Fluder, J. Golab, S. Piecuch and M. Tomaszewski in this time made a new route on Nalumasortoq and they would have certainly deserved the nomination.
Jury in the head of which was Pail Keller from France who in the 50's climbed Mustagh Tower (7273 m) and Jannu (7700 m), finally decided to award Thomas Huber and Iwan Wolf. They won the Piolet d´Or 2000 for their first ascent Shiva's line on Shivling. Congratulations and we hope that once the Slovak alpinists will be among nominated climbers too.